Special for the month of November 2013: Ruby Red.
Only $15.00/bottle + tax.
An excellent Thanksgiving Aperitif.

Annual Christmas Dinner Dance
December 14, 2013
Light Cheese & Wine pairing: 6:00 p.m.
Dinner at 6:30 p.m.
Place: Red Barn Winery Banquet Room
Dress up with the Christmas Elves! Santa Elves will be judging for best costume.
1st. place couple (RBW gift card)
1st. place singles (RBW gift card)
Or just come and enjoy the festivity.
Menu: Salad, Crusted Pork Loin, Spicy Apple Grilled Chicken, Snappy French Beans, Herbal Potatoes, Rolls, Cherry Cobbler dessert.
We still have a few tables left!
Sign up now using Paypal or call (615) 688-6012.
Tickets are $40.00 per couple or $22.50 single.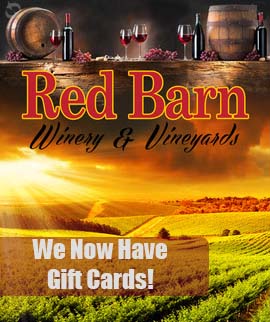 2013 Vino and Screamo Halloween Party!
Please move your cursor over the above image, then click to view slideshow.
Download
the
Red Barn Winery
App for iPhone!
Click here
The Red Barn Winery Wine Club
Our Family Wines
We want you to wine with us!
30% discount on menu prices plus shipping and handling. May come by to save shipping and handling.
Membership is only $20.00 annually.
Must purchase wine quarterly.
Must purchase minimum of two cases per year.
May mix and match order. Remember, shipping in lots of 6 bottles only.
No other discounts apply.

Red Barn is a proud member of the Upper Cumberland Wine Trail!
Please click here for a map and directions (pdf file).
Click here to visit the Upper Cumberland's web site.
Click here to watch video from Fox-17 Nashville (December 2012).

Footloose and Fancy Free!
Please move your cursor over the above image, then click to view slideshow.

Red Barn Winery is proud to provide a wonderful venue for very special occasions!

Watch video of a Grape Harvest at Red Barn Winery!
(Quicktime .mov file, 7 MB)
Gift Cards available for wine and/or events!
Save!! Ask about our season tickets to all of our events.

What we grow is what we make ...
with Tennessee Pride!